The Perfect Valentines Day On The Sofa
10 February 2012
With less than a week to go until Valentines Day and love is in the air! Here at Sofas & Stuff, the ladies in the showroom are certainly excited to see what their loved ones have planned for them this year - all this romantic chatter led onto a conversation about what would make the perfect Valentines night in on the sofa, as an alternative to fighting with hoards of other couples at a restaurant.
So many great ideas were thrown around that we thought we would share it with our lovely blog readers to give you a bit of inspiration for creating a romantic night in on the sofa for that special someone. We've got it covered, with all the ingredients for a perfect night in - our personal recommendations for wine, food, decorations and even music. And of course, you'll have an even better night if you're perched on one of our sofas..
Classic Champagne Cocktail
Everyone likes a bit of bubbly for a special night but why not go the extra mile and make some delicious champagne cocktails? They are very easy to make - simply soak a sugar cube with a few splashes of Angostura bitters in a champagne flute, then top up with about half a shot of cognac and champagne. Finish your creation with a squeeze of lemon and if you're feeling really fancy, you can garnish it with a orange or lemon twist.
Valentines Day Canapé Selection
There's something about canapés that just add a touch of class to any evening and we love the selection of canapés that we found over on BBC Good Food. There's a huge selection to choose from and you can create a platter that is to both of your tastes. But if it was us, we'd go for the Prosciutto and Rocket Rolls, the Mini Salmon and Hollandaise Tarts along with the Sweet Potato Stackers and Prawn and Chorizo Skewers. Oh, and maybe a few Black Olive and Goats Cheese Tartlets with a few of these Spicy Spinach Cakes. That's all we promise - but really it's up to you, that's the beauty of canapés.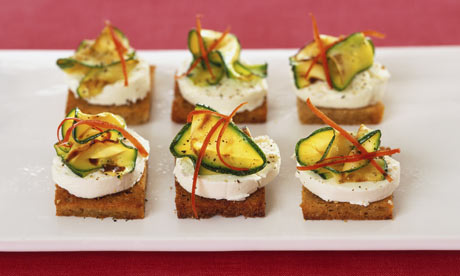 Valentines Day Cupcakes
If there's one day of the year when cupcakes are 100% allowed on the menu, it's Valentines Day. We searched high and low for the best cupcake recipe out there so you can wow your loved one with your baking skills. And who better to turn to than the queen of sensual food, Nigella Lawson for our cupcake delights - these look simply stunning and you can find the recipe right here.
Setting The Scene
You've now got delicious drinks and nibbles sorted for your sweetheart, but how are you going to set the mood for your special night? Well, for one you can't go wrong with a Jo Malone candle - it's up to you which fragrance you choose but a few of these will fill the air with some wonderful scents.
Valentines day wouldn't be the same with a beautiful bouquet of flowers - you can go for the traditional red roses but you can always put a bit of a twist on this idea, like with this luxury grand prix rose hat box.
A bit of music never goes amiss and we have lots of suggestions for the perfect tunes to create a relaxed, romantic feeling for your evening. Current favourites from the Sofas & Stuff team include Katie Melua, Jamie Cullum, Coldplay and Keane.
Hopefully our little guide has given you a few ideas for this Valentines Day - we hope you all have a fantastic day and that you get to spend it with the most special person in your life.
0 comment(s) for "The Perfect Valentines Day On The Sofa"